Solar Charkha Mission
The Ministry of Micro, Small and Medium Enterprises (MSME) launched the Solar Charkha Mission on 27th June 2018 on the occasion of United Nations MSME Day. The government recently has released information about this enterprise-driven mission.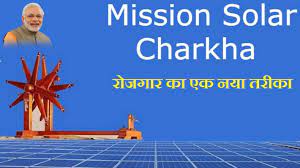 Overview of Mission Solar Charkha

When was it launched?
27th June 2018
The mission is under which government ministry?
Ministry of Micro, Small and Medium Enterprises (MSME)
Aim of the mission
Employment generation for nearly one lakh people through solar charkha clusters in rural areas
An outlay of the mission
Rs. 550 Crores
Official Website
https://www.kviconline.gov.in/msc/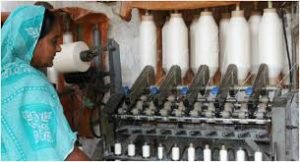 Background of Solar Charkha Mission
In 2016, a pilot project of mission solar charkha was run in Khanwa village of Bihar's Nawada district.
After the success of the mission solar charkha pilot project, It was officially introduced in 2018 on United Nations MSME Day.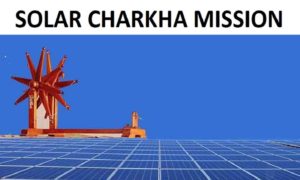 Salient Points of Solar Charkha Mission
Establishment of Solar Charkha Clusters:

It is a focal village along with surrounding villages (within the radius of 8-10 kms.)
It will have 200-2042 beneficiaries.
Spinners, weavers, stitches and other skilled artisans are the beneficiaries of mission solar charkha (MSC.)

The components of solar charkha:

Each beneficiary will get two solar charkhas of 10 spindles each.
One cluster is to have 1000 solar charkhas.
2042 artisans will get direct employment in a cluster that will work with full capacity.

The government has set an outlay of Rs.550 crores for 50 clusters between 2018-2020.
One lakh artisans with a focus on women and youth will be directly employed in 50 clusters under the solar charkha scheme.
One cluster will attract a maximum subsidy of Rs. 9.60 crores.
Objectives of Solar Charkha Mission
Inclusive growth – The mission solar charkha aims to enhance inclusivity by employing women, youngsters in this mission.
Sustainable Development – The use of solar charkhas in the scheme aims to promote sustainable development in rural areas.
Rural Economic Development – The group of villages are going to act as clusters and hence, through employment generation, the mission aims to boost the rural economy.
Arresting Migration – The mission aims to contain the migration from villages to cities. As a fact, according to census 2011, 37 percent of Indians are internal migrants.
Promote low-cost and innovative technologies.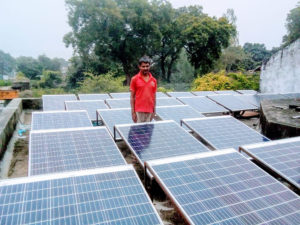 Financial Assistance to the Solar Charkha Scheme
There are three types of project interventions:
Capital subsidy for individual and for Special Purpose Vehicle (SPV)
Interest Subvention for Working Capital
Capacity Building.
Project Coverage
Firstly, The target is to cover 50 solar clusters across the country, whereby approximately 1,00,000 artisans/beneficiaries are to be covered under the various scheme components. The scheme shall be implemented in all States of India.
The geographical distribution of the clusters throughout the country, with at least 10% located in the North Eastern Region (NER), J&K and hilly states, will also be kept in view. Special focus will be given to 117 aspirational districts for soliciting project proposals under the scheme.
The main parameters of the scheme are as follows:
Solar Charkha Mission Directorate will draw up a State-wise list of potential clusters.
An individual or a promoter agency would be selected/ preferred for setting up of Solar Charkha Clusters. Existing Khadi Institutions can also take up the work of setting up of such clusters.
Promoter will fulfil the following criteria at the time of application :

Baseline survey would be conducted by the promoter, and, at least, 200 members would be identified with Aadhaar numbers of which at least 50% shall be women.
Land of minimum 20,000 sq.ft and upto 2 acres will be provided by the promoter either owned or on long-term lease of minimum 15 years. The land will be arranged by the promoter and all expenditure pertaining to the land will be made by the promoter.

The promoter agency will deposit at least 15% of the requirement of the working capital or at least three months' projected amount of working capital in a separate dedicated account only after final selection of the promoter by the SSC and before the first rel ease fund is made.
The promoter agency will form a Special Purpose Vehicle (SPV), before the release of the first instalment of funds, possibly a Section – 8 Company or a Producer company under the Companies Act, 2013 for putting up the integrated model of solar charkhas, solar looms, sewing machines etc. with one village being a focal village.

Criteria for selection of Promoter Agency/SPV
Existing Khadi and Village Industry Institution (KVI) could apply for setting up such a cluster. However, the following parameters must be fulfilled :

KVI having a positive balance sheet and assets in favour of the institution;
KVI having an artisan base of not less than 200;
KVI having a sales turnover of not less than Rs. One Crore in each of the preceding three financial years;
Should have an increase in number of new artisans in the last three years.

Other Institutions such as SPV, Society, Trust, Section 8 Company or LLP under Companies Act, 2013 registered under respective statutes could also apply for setting up a new Solar Charkha Cluster, with the following criteria:

Vision and Mission
Board and Governing Structure with sufficient experience
Proper Management Information System (MIS)
Financial Resources – equity and debt
Financial Performance for last three years – profitability and IRR

First Timers who want to join the village industry movement through solar charkha clusters could apply for a new cluster, with the following criteria:

Highest Commitment to the cause of social and rural upliftment
Funding commitment from Scheduled Commercial Banks/ NBFC/ Venture Capital Fund/Private Equity funds
Proper Management Information System (MIS)
Any other criteria to be approved by Governing Council.
WHAT IS HAR GHAR TIRANGA SCHEME
GET ALL GOVERNMENT RELATED SCHEMES IN ONE CLICK.